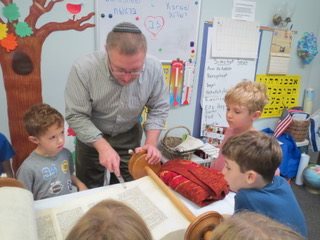 SMILE, which stands for Sunday Mornings Include Learning for Everyone, is what we strive for at Or Hadash. Each child is unique, as are their interests and backgrounds, and we aim to provide a safe, fun space of Jewish learning for all. 
At Or Hadash, children are encouraged to discover their personal relationships with Judaism as a civilization, study the Torah as an expression of God's relationship with humankind, and connect with Jews throughout the world. We accomplish these goals by providing our students with opportunities to learn through critical, creative thinking and an interactive approach. Art, music, theater and movement supplement our curriculum, encouraging students to take what they have learned and share it in whatever manner they choose. They have the opportunity to explore their feelings about their spirituality and to question continually, to ensure that what they are learning is relevant to their lives.
Each week, students participate in an age-appropriate service so that they become familiar with the Shabbat prayers. Each class participates in a Friday evening service during the school year.  In addition, because we believe that it is important to develop Hebrew literacy skills at a young age, students practice leading prayers during school wide services.
Times of Class:
(Gan) Kindergarten-1st Grade:
9:00-11:15: Creative Judaic Learning, Hebrew reading readiness and introductory prayer skills
2nd Grade-6th Grade
9:00-10:30: Hebrew Studies
10:30-12:00: Judaic Studies
12:00-12:30:  Service for familiarity and comfort in Reconstructionist Shabbat liturgy
7th Grade-9th Grade
11:15-1:00: Hebrew and Judaic Studies
10th Grade Confirmation Class
11:15-1:00: Hebrew and Judaic studies
For more detailed information, visit School Curriculum.