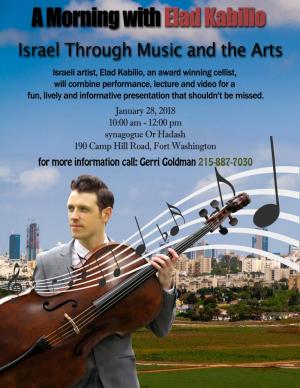 January 28, 2018 - 9:30am
This year's program is definitely one not to be missed! Elad Kabilio is a renowned, award-winning Israeli cellist who has toured with orchestras in both Europe and the US. Presently he is teaching at the Manhattan School of Music. He has a scholarship from the America-Israel Cultural Foundation, which is the organization through which we were able to find him to come and perform. He will also give a presentation on Israeli music and will speak about the other arts in Israel. Open to all, bring friends and share the warmth of Or Hadash!
Please click on the attachment below for an event flyer.