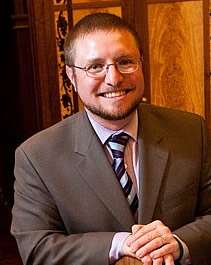 Rabbi Joshua Waxman graduated from the Reconstructionist Rabbinical College in 2003. Before attending RRC, he studied Russian History and Literature at Harvard University, worked with progressive Jewish communities in the former Soviet Union, and lived and studied in Israel. He has served on the faculty of RRC in the Department of Biblical Civilizations and currently serves as a director in the Spiritual Direction program for rabbinical students. He was a featured columnist for the popular Virtual Talmud series on Beliefnet.com and was a board member of the Jewish Social Policy Action Network.  He currently serves as Rabbinic Chair for the Kehillah of Bux-Mont and on the Executive Committee of the Va'ad Board of Rabbis of Greater Philadelphia.
Rabbi Josh believes that a Reconstructionist approach can make Judaism vibrant, accessible, and meaningful to everyone. "Reconstructionist thought teaches that Judaism has evolved over thousands of years," he explains, "and continues to evolve in our own time as the Jewish people thoughtfully weave together the wisdom and teachings of our tradition with our contemporary insights and values. This fusion creates an organic and dynamic approach to living our lives as Jews that doesn't depend on a particular set of beliefs or practices, or on sacrificing one's intellectual integrity. At the same time, we open our lives to be enriched by the wonder and wisdom that lie at the heart of Jewish teaching." To this end, Rabbi Josh brings an array of intellectual and spiritual perspectives to Shabbat and holiday services, fosters a vibrant Torah Study and Adult Education program, celebrates music and creativity as vital vehicles for Jewish expression, and promotes broad participation in social action as a way to demonstrate our appreciation for the gifts we have received and to share those blessings with others.
Rabbi Josh lives in Elkins Park with his wife, Aimée, and their three children, Tzvi, Yael, and Adir. He served as rabbi of Or Hadash: A Reconstructionist Congregation from 2004-2019.
Contact Rabbi Josh at rabbijosh@orhadash.com
The Rabbi's High Holiday sermons below or:
CLICK HERE FOR MORE OF THE RABBI'S WRITINGS
CLICK HERE FOR Rabbi's Virtual Talmud Blog