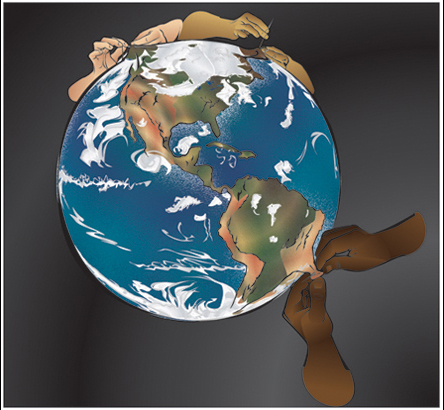 Tikun Olam translated means the repair of the world. At Or Hadash this means assisting families in times of need (our Hesed Committee), as well as participation in community-wide responses to misfortune. It means encouraging individual and communal responses to pressing political and social questions. It means that we are concerned with the wide range of issues -- Jewish and non-Jewish -- that affect our world.
The Social Action/Tikkun Olam (SATO) Committee initiates and carries out social action projects within the congregation that connect its members to the larger community outside of Or Hadash. These projects involve members from across the age and interest spectrum of the congregation, and allow people to spend a few hours, a few days, or more volunteering in meaningful ways. Students are also encouraged to participate and can use these projects for their B'nai Mitzvah or Confirmation requirements. Or Hadash has hosted homeless families for a month as part of a community-wide consortium of congregations, provided home-made soup to a local food pantry (see attached recipes), and participated in cooking for Aid for Friends.

Mitzvah Circle Foundation is collecting NEW underwear, especially for adults. Please go to their Amazon Wishlist and choose your donation. You can also bring in donations of NEW underwear to the collection box in the back hallway.
Questions? sato@orhadash.com

Together, 918 volunteers packed and delivered 3,485 boxes of food filled to the brim with Thanksgiving and Hanukkah goodies and other nutritious foods. In addition, we distributed 570 family-friendly bags and over 350 bags of household essentials. We couldn't have done it without you - thank you!!
We can't wait to see you all back again for the December Food Distribution - early registration is open now. Advanced registration is required and spots will fill up quickly! New group registration is closed.
Facebook Photo Album November Food Distribution