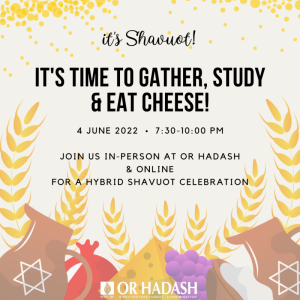 Please join us in person or on Zoom on Saturday evening, June 4th, for Tikkun Leil Shavuot, the Erev Shavuot night of study and Jewish connection. Our program includes multiple choices depending on your interests. We begin the evening with the beauty of the Havdalah service and its sensual rituals and end the evening with the melodic chanting of the Ten Commandments. In between there will be learning, socializing, and delicious treats. This is a not to be missed opportunity for community engagement! The schedule for the evening is listed below, or click on the attached file below for the beautiful event flier.
7:30-8:10 Havdalah and Erev Shavuot service

8:15-9:00 Breakout session one: choice of three presentations
Aliza Green: Dairy and Fish in the Jewish Palate--presentation with recipes

Suzanne Caster: The Book of Ruth

Marty Jacobs: Is There Room for Universalism in Judaism?
9:00-9:20 Snack break--outdoors if weather permitting

9:20-10:00 Breakout session two: choice of two
Rabbi Elyse Wechterman: Reproductive Choice in Jewish Tradition

Rabbi Alanna and Jeff Chebot: Gun Violence Prevention thru Jewish Text and Activism
10:00-10:20 Chanting of the Ten Commandments under the stars
RSVP by June 1 to office@orhadash.com if you are coming in person. Congregants who want to attend by zoom will find the link in the weekend DailyLinks.