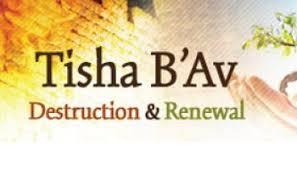 Our annual Or Hadash Tisha b'Av observance will be held on the evening of Saturday, August 6, beginning at 8:30. It may be a hybrid service with the in-person component in the Healing Garden and a Zoom link provided in Daily Links for members. Decision TBA, may just be on Zoom. Nonmembers wanting a Zoom link should contact office@orhadash.com by noon on Friday, August 5.
This solemn and contemplative program will include periods of silence and chanting in commemoration of the many tragedies which have befallen the Jewish people throughout the course of our history. Havdalah will be recited, and the evening's events will include chanting of the traditional Book of Eichah (Lamentations), with English readings of selected passages by volunteer participants. We will meet in silence and observe periods of silence throughout the program. Online attendees are encouraged to have their surroundings dimly lit, and to have a yahrzeit (or other) candle ready to light nearby.
Please join us once again for what has come to be a touching experience in the tradition of our community. For those of you observing the Tisha b'Av fast, the 25-hour fast will begin at sunset on August 6 and continue through nightfall on August 7. Questions? Please contact Pat Steinberg or Jeff Chebot.