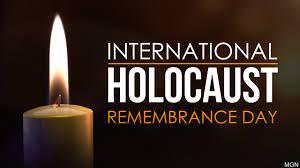 January 28, 2022 - 6:00pm
Please join us on Friday, January 28 at 6pm for International Holocaust Remembrance Day Shabbat, in-person and online with KI and Or Hadash. Guest Speaker: Steve Fisher, Playwright and Director, with cast members reciting extraordinary poetry from Off Broadway's The Last Boy...a new play with music. We will be co-sponsoring this Service and Program in partnership with KI and HAMEC. The service will be co-led by Cantor Amy Levy (KI) and Rabbi Alanna (OH) from KI that evening. We are planning right now for in-person community participation at Reform Congregation Keneseth Israel - 8339 Old York Road, Elkins Park, PA 19027; 215-887-8702; www.kenesethisrael.org, but covid-19 numbers may prevent that.TBD. Regardless, it will be streaming on http://tiny.cc/OHitsShabbat. Because of the special program, the service will also begin at 6:00 pm rather than our usual later time.
Please click on the attached file for an event flier.