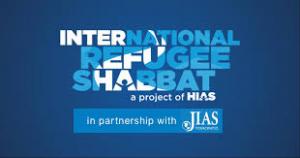 Please join us for a special Refugee Shabbat on Friday evening March 5 at 7 pm. We will welcome Dr. Carol Gantman, President of the Board of HIAS Pennsylvania and Attorney Cathryn Miller-Wilson, Executive Director of HIAS Pennsylvania. Dr. Gantman's presentation will include the story of an asylum seeker from Sierra Leone who had a positive outcome. Ms. Miller-Wilson will give us an update on the current immigration situation, changes expected under the Biden administration and how we can get involved.
Click on the attached file below for an event flier.
In the spirit of Refugee Shabbat, learn ways to help immigrants this month and beyond by clicking on the attached file below.