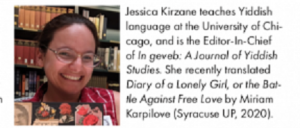 October 24, 2021 - 11:00am
Please join us on Sunday, October 24th from 11:00am-12:30pm via Zoom for a conversation with Dr. Jessica Kirzane entitled "Women Who Wrote in Yiddish". We hope it will attract people interested in Yiddish history and culture, to those interested in literature, to those interested in feminist studies.
"From the beginnings of modern Yiddish literature, women took part in shaping the literary tradition in memoirs, poetry, short stories, and novels. Their writing was often ignored or discounted by male critics and editors who wanted to elevate Yiddish as a modern language equal to other European languages and saw men's writing as the path toward that goal. In this talk, Jessica Kirzane will offer an overview of Yiddish literary culture through highlights from many women who have produced Yiddish writing over centuries." ---
Jessica Kirzane, Assistant Instructional Professor in Yiddish, Department of Germanic Studies, The University of Chicago.
After registering, you will receive a confirmation email containing information about joining the meeting.
Contact is Manny Rosenberg.