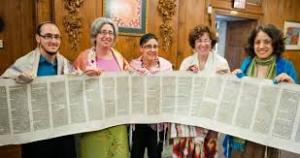 October 20, 2019 - 5:00pm
Come join us in celebrating the end and the beginning of the Annual Torah reading cycle as we unfurl the entire Torah around the sanctuary!
We begin the Evening Festival Service at 5:00 pm with Hakafot, Torah service, and Israeli dancing. We end with ice cream for all at 6:30 pm!