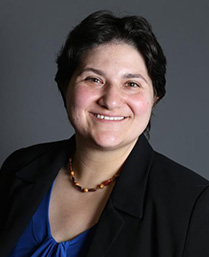 Rabbi Alanna Sklover joined our community at Or Hadash in the summer of 2019. Prior to her tenure as Rabbi at Or Hadash, Rabbi Alanna served as the Director of Lifelong Learning at Germantown Jewish Centre. Rabbi Alanna is the current Rabbinic Chair of the BuxMont Kehillah and is active in WFCA (the Wissahickon Faith Community Association).
Committed to the values of kehillah (community) and tikkun olam (repairing the world), Rabbi Alanna believes that Judaism does not happen in a vacuum, but rather it flourishes in moments of shared communal experience and when we live out our values and seek a more compassionate and just world. She is passionate about building Jewish spaces that are welcoming and inclusive of people of all genders, ethnicities, backgrounds, ages and abilities. She is an enthusiastic and creative teacher of Torah, helping people to encounter Jewish text and tradition in ways that are authentic, relevant and resonant.
Rabbi Alanna also loves to sing and brings her love for Jewish music and communal singing to her work at Or Hadash, blending traditional nusach (liturgical chanting) with a a wide range of melodies and prayer modalities to create dynamic worship experiences.
Rabbi Alanna graduated from the Reconstructionist Rabbinical College in 2013 with a Specialization in the Congregational Rabbinate and is a recipient of the Rabbi Kenneth and Aviva Berger Memorial Prize in Practical Rabbinics. She holds a BA from Goucher College in Theater and Religion. Rabbi Alanna and her wife Rebecca Kirzner live in Mt. Airy with their two children, Bina and Tani.
Contact Rabbi Alanna at rabbi@orhadash.com or use this link to make an appointment with Rabbi Alanna: https://rabbisklover.youcanbook.me/.
Read more about Rabbi Sklover in the Philadelphia Inquirer and Philadelphia Gay News.