Musical Shabbats
The creative arts play an important role in the life of the congregation. Our many talented members find outlets for their diverse artistic abilities in a variety of opportunities.
Makaylah [Choir]
The all volunteer, congregant choir is a much admired constant at Or Hadash, providing pleasing and inviting Jewish choral music at Shabbat and Holiday services. The group also sings at the Delaware Valley Choral Festival, community events, and occasional B'nei Mitzvot. Learn more »
Musical Shabbatot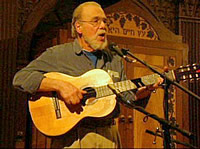 On Shabbat Zimrah, the congregation's musicians enrich Friday evening services with the beautiful sounds of the harp, violin, flute, guitar, keyboard, piano, and drums.