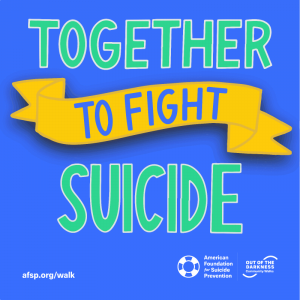 The Greater Philadelphia chapter of the American Foundation for Suicide Prevention (AFSP) is holding their annual Out of the Darkness walk October 1, 2023 at 9am starting at the Philadelphia Art Museum. AFSP is an organization that saves lives and brings hope to people affected by suicide. The Carry the Light team was set-up in hopes that our Or Hadash community (and their extended friends and family) might join us in walking/donating/or both this fall.
To register to walk with us (in-person or virtually), please click here and select Join Our Team. Registration is free and there's no fundraising minimum. If you are unable to join us but still wish to donate, please click here and select Donate.
Please contact Darcy Lindy (drdarcyglindy@hotmail.com) if you have any questions, or visit the AFSP website to learn more about the foundation and Out of the Darkness Community Walks. I hope you'll join us!