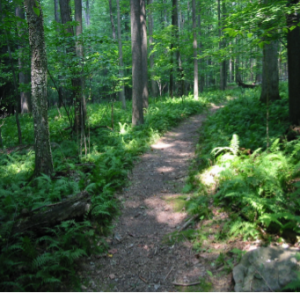 October 21, 2023 - 9:00am
Shabbat in the Park will take place on Saturday morning, October 21 at Robbins Park on E. Butler Pike in Upper Dublin. Robbins Park is a beautiful wooded park with many trails winding through the woods, as well as a stream and a pond.
We start with a bagel breakfast at 8:45 am and Torah Study at 9:00 am in a covered pavilion near the park entrance. Services will begin at 10:00 am a short walk away at the campfire circle, weather permitting. Even though the pavilion is covered, it is open on 3 sides - providing plenty of fresh air and beautiful woodland views. Please NOTE: Seating is on benches. If you would prefer a chair, please bring one.
Shabbat in the Park doesn't happen in heavy rain. In the event of a wet forecast, there will be a message on the website if there is a location change.
Please plan on joining us for this inspirational Saturday morning.
A flier with directions to Robbins Park can be printed by clicking on the file below.