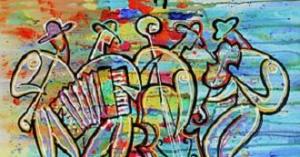 KlezFest 5778 at Or Hadash
Please join us for a lively celebration of Klezmer music, featuring world-renowned Klezmer musicians the Warschauer-Strauss Klezmer Duo and Philadelphia Klezmer favorites the Ken Ulansey Klezmer Ensemble. Opening for these two great acts will be Or Hadash's own New Klezmaniax! The evening will feature a wide variety of Klezmer favorites, including wonderful tunes to dance to.
We'll be serving complimentary wine and hard cider, courtesy of Stone & Key Cellars; and yummy desserts will be available for purchase.
Come get your Klez on!!!
Or Hadash members please use ChaverWeb to sign up and pay for this event. Non-members should click here or go to www.goo.gl/PBW4uK for tickets.
Please click on the attached file for an event flyer.