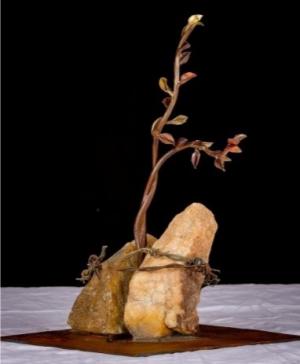 Please join us for our Holocaust Presentation and Memorial Dedication Ceremony
Or Hadash has commissioned a local artist, Rob Sigafoos, to create a memorial to the Holocaust, thanks to the generosity of Carolyn and Alan Lindy. The memorial is installed on the grounds of Or Hadash, adjacent to the Life Cycle Garden, which is on the sanctuary side of the building. A model of the memorial, with a poster and an informative plaque, is located in the solarium. A dedication ceremony for the memorial will be held on Sunday, October 14, 2018 at 11:00 am. Lillian Gewirtzman, author of After the Silence: Reflections of the Descendents, will speak on the topic "Rebuilding Culture and Community in the Aftermath of World War II". Both the artist, Rob Sigafoos, and Rabbi Josh will also speak at the ceremony. Music will be provided by Or Hadash member and harpist Cheryl Kripke Cohen. Refreshments will be served after the ceremony.
11:00 am - Ceremony with Lillian Gewirtzman
12:00 pm - Dedication of Holocaust Memorial (outdoors)
12:30 pm - Refreshments/Oneg
The dedication is open to the congregation and the public. RSVP to Nadine Canter at office@orhadash.com
Please click on the attachment below for the event flier.