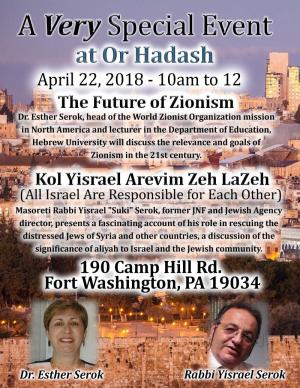 The April 22 discussion will be a two hour event, from 10 am to noon, featuring an Israeli power couple, husband and wife Rabbi Yisrael "Suki" Serok and Dr. Esther Serok.
Dr. Esther is head of the World Zionist Organization mission in North America and lecturer in the Department of Education, Hebrew University. Her subject, is "The Future of Zionism." She will discuss the relevance and goals of Zionism in the 21st century.
Rabbi Suki is a Masoreti (Israeli equivalent of U.S. Conservative) rabbi and former Jewish National Fund and Jewish Agency director. His topic will be "All Israel Are Responsible for Each Other – Kol Yisrael Arevim Zeh Lazeh." He will present a fascinating account of his role in rescuing the distressed Jews of Syria and other countries, and discuss the significance of aliyah in Israel and the Jewish Community.
Please click on the attached file for an event flier.