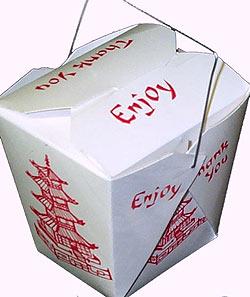 JOIN Community Life/Adult Ed for our OR HADASH FAMILY CHINESE DINNER/MOVIE NIGHT
It's our tradition: Chinese food on December 24th!
JOIN YOUR FRIENDS AT OR HADASH FOR A DELICIOUS VEGETARIAN CHINESE DINNER AND DESSERT FOLLOWED BY A MOVIE (TBD)
Join us at Or Hadash Sunday, December 24th, for a delicious catered vegetarian Chinese dinner from Jasmine Asian Bistro. Dinner will start at 6 pm in the sanctuary. The cost is $15 per adult and $8 per child (12 and under). Dinner will be BYOB - wine, beer, etc. Soft drinks will be provided.
After dinner, grab some dessert and feel free to stay and enjoy a family-friendly movie in our community room. If you would prefer, we will be providing board games to play with friends in the sanctuary. Feel free to bring one of your favorites.
RSVP's must be in by December 15th so we can order food.
Please click on the attachment below for a flyer with reservation information.
Make checks payable to OR HADASH
Mail to: Or Hadash; 190 Camp Hill Road; Fort Washington, PA 19034
MUST RSVP BY FRIDAY, DECEMBER 15TH
Questions: Contact Sue Rosenthal at ssrosenthal@verizon.net or Gloria Ringel at gloria.ann.ringel@gmail.com.